James and Ann Hapgood of Lymington
James and Ann were one of two Hapgood families living in Lymington at the end of the eighteenth century. They married at Boldre, a few miles outside Lymington, on 17 November 1791 at the ages of 23 (James) and 18 (Ann) respectively. Over the following 24 years they had eleven children as shown in the family tree below.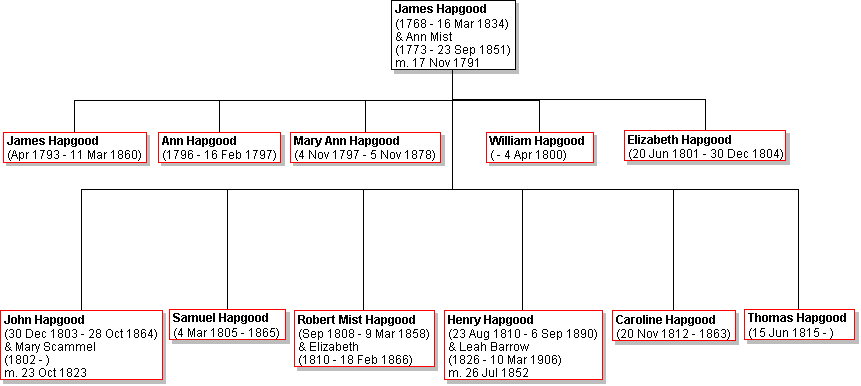 James died in 1834 in Lymington and Ann followed in 1851. They are buried in the churchyard at Lymington Parish Church together with their eldest son, James (d. 1860). There is a death notice for Ann in the Hampshire Cronicle (27 Sep 1851, pg. 5), where she was described as a fruiterer.
Links to information on their children
Occupation
James and Ann operated several businesses in the Lymington area:
Antecedants
I have (as yet!) no concrete information on their births. There is a hint that James came from the adjacent county of Dorset. This is evidenced by a letter written in 1894 by James' grandson, Henry James Hapgood and published in 1898 in the American book The Hapgood Family by Warren Hapgood. Henry James Hapgood notes that "My grandfather came out of Dorsetshire into Hampshire about the close of the last century, ... ".
Ann's father had the surname Mist though his given name is not known. This is the origin of the Mist second name that occurs among her descendants - usually as Robert Mist.
---
Last updated 05 November 2006.

This work is licenced under a Creative Commons Licence.