John and Mary Hapgood of Lymington
John and Mary Hapgood grew up in Lymington at the start of the nineteenth century. They married in Lymington on 23 October 1823 at the ages of 19 (John) and 23 (Mary) respectively. As far as is known they had only two children as shown in the family tree below.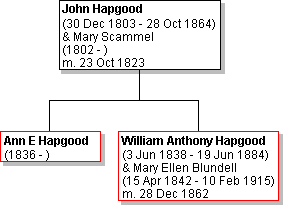 John and Mary were the ancestors of a number of Hapgood families that developed in the North West of England in the second half of the nineteenth century and spread into North East Wales during the twentieth century. The key evidence for this is the following newspaper death report, which was found among the papers of their grandson, James Hapgood, after the latter's death in 1924.

This report can be linked to the GRO death certificate for one John Hapgood, which shows that he died aged 61 years of "ulcer of the stomach, peritonitis 6 days certified" on 28 October 1864 at 4 Brook Street, Toxteth Park, Liverpool. The certificate shows the informant to be one "Annie Hapgood", presumably his daughter. There is no reference to Mary, so it may be that she died before John.
The 1851 census provides additional evidence of John and Mary's move to Liverpool. The family is clearly shown in the following entry for 108 Kilshaw Street in the township of Everton:
| | | | | | | |
| --- | --- | --- | --- | --- | --- | --- |
| Name | relationship | martial status | age | occupation | birthplace | |
| John Hapgood | head | m | 47 | Coachman | Lymington, Hampshire | |
| Mary Hapgood | wife | m | 49 | | Burley, Hampshire | |
| Ann E Hapgood | dau | u | 14 | scholar | Southampton, Hampshire | |
| William A Hapgood | son | u | 12 | | London, Middlesex | |
Links to information on their children
Occupation
John Hapgood seems to have spent much of his adult life working with various forms of passenger road transport. There are several pieces of evidence for this:
The 1851 census entry above describes him as a coachman
His death certicate gives his occupation as "omnibus driver"
most importantly, there exists an advertising flyer for a coach run by John
Antecedants
John was the son of James and Ann Hapgood.
Mary's maiden name was Scammel. Her parents' names are not known.
---
Last updated 06 June 2005