John Hapgood, Coach Proprietor
The most striking evidence of John Hapgood's occupation is a advertising flyer for the Regulator, a stagecoach that ran 36 miles between Shaftesbury and the Great Western Railway station at Chippenham in Wiltshire. This flyer was found among the papers of his grandson, James Hapgood, after the latter's death in 1924. A copy of the flyer is shown below.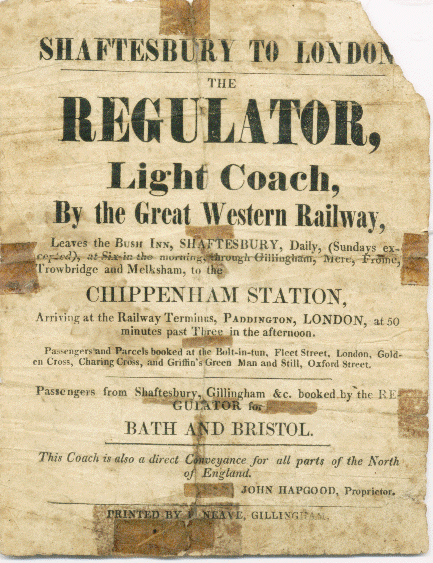 The flyer is undated but must clearly post-date the opening of the GWR through Chippenham in 1835. It seems likely that this service was operated soon after this as that is the only period in which it would have been feasible to have run coach services over such relatively long distances. The service would have been rapidly undercut by the opening of railways closer to Shaftesbury. For example
the first railway to reach Salisbury (20 miles east of Shaftesbury) which opened in 1847. This was a branch from Bishopstoke (now Eastleigh) on the main line from Southampton to London.
the railways through towns on the coach route to Chippenham - namely Frome (15 miles from Shaftesbury, opened 1850), Trowbridge (23 miles, 1848) and Melksham (29 miles, 1848).
the Bath to Salisbury railway which arrived in Warminster, 15 miles north of Shaftesbury, in 1851.
the Salisbury to Exeter railway which passes through Gillingham three miles north-west of Shaftesbury. This opened in 1859.
The back of the flyer is annotated with a handwritten description of the coach route and timings. This is shown below. It is interesting to speculate that this is written by John or Mary, his wife. But it's probably impossible to determine that issue at this distance in time.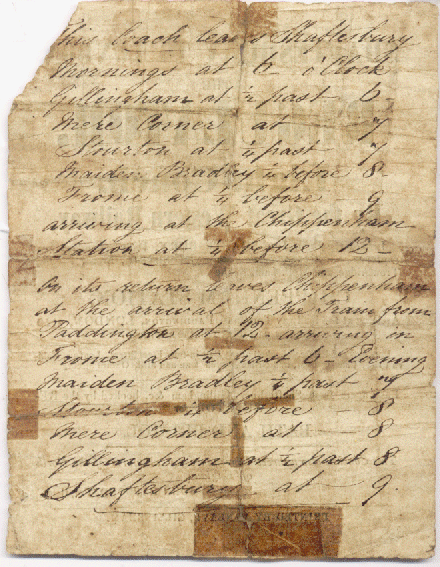 These timings are interesting. They suggest that the trains from Chippenham took three to four hours to cover the 90 miles to Paddington, an average speed of between 20 and 30 mph. This low speed supports an early date for the flyer. They also show that the coach took six hours to cover the 36 mile route - an average speed of 6 mph.
---
Last updated 08 May 2005