William Anthony and Mary Ellen Hapgood
William Anthony and Mary Ellen Hapgood lived in the North West of England in the second half of the nineteenth century. They married at Everton in Liverpool on 28 December 1862 at the ages of 24 (William) and 20 (Mary) respectively. They had a large family as shown in the family tree below.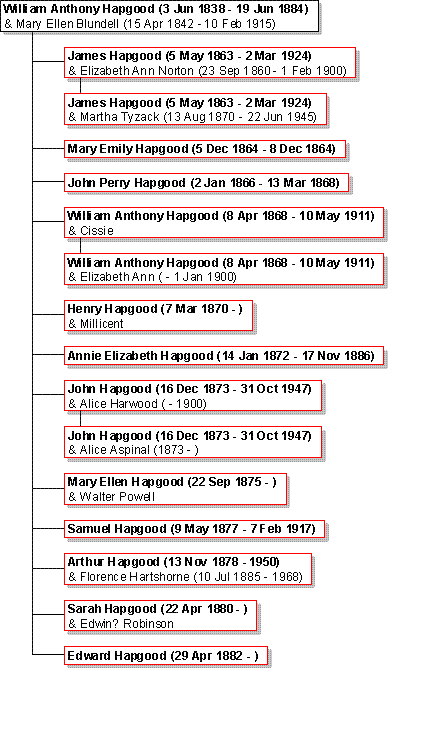 William died in Salford on 19 June 1884 at the relatively young age of 46. Mary Ellen lived for almost another three decades dying on 10 February 1915. After William's death she re-married to Thomas Norton, the widower father of Elizabeth Ann, the first wife of her eldest son James. They are both buried at Weaste Cemetery, Salford in Grave 942, Plot A12 - together with several other members of their family. It is not clear if the grave ever had a memorial stone. Certainly none was present when I visited the cemetery on 27 December 1980 (but we did find several other graves with stones and bearing numbers close to 942, so it was easy to work out the location).
Images
Mary Ellen
The picture to the left shows Mary Ellen Hapgood and her eldest son, James. It is annotated on the back as follows:

This Portrait is of Mrs M.E. Hapgood & Her First infant taken in April 1864. Mrs Hapgood Born in 15 April 1842 Age Twenty Two years The infant Eleven months Twenty days Born may 5 1863

Note:I have preserved the original capitisation of the annotation.
William Anthony
The pictures above show a young man dressed as a fireman. The left hand picture shows this clearly with the helemet and the axe on his left side. The right picture shows that this is a young man. Both pictures are annotated on the back with W. Hapgood, so I suspect that this is William Anthony Hapgood. This might be confirmed by a search for old fire service records. The collar of his jacket shows the number 7, so this may be an aid to a search. But where to search? Mostly likely in Manchester or Liverpool. Could the decoration on the wall in the left hand picture be of any help?
Links to information on their children
Occupation
Antecedants
William Anthony was the son of John and Mary Hapgood.
Mary Ellen was the daughter of ? Blundell and was born at Everton in Liverpool on 15 April 1842 .
---
Last updated 06 June 2005