John Hapgood in Australia
John Hapgood was born in Salford, England, the fifth son of William Anthony and Mary Ellen Hapgood. He spent his early life in England but, in his late thirties, he emigrated to Australia with his family. A number of Hapgood families in Australia are descended from John.


John married twice as shown in the family tree below. He first married in 1897 (when he was 23) to Alice Harwood, who was the mother of his son, another William Anthony. Alice died in 1900 (i.e. soon after William's birth). John remained a widower for some years but eventually re-married another Alice, Alice Aspinal, in 1909. John and Alice emigrated to Austrlia in 1912, where their daughter (Alice May) was born in 1916.
Images
The picture below shows John Hapgood and his family soon after their arrival in Australia in 1912. It was annotated on the back "John Hapgood & family (Australia)" and the frame is marked "W. Mason & Co, 144 Bridge Road, Richmond, Melbourne". The parents are obviously John and his second wife, Alice. The young boy is John's son by his first marriage, William Anthony, who would have be aged 12 at the time. But who is the older girl? - presumably Alice's daughter by a previous marriage.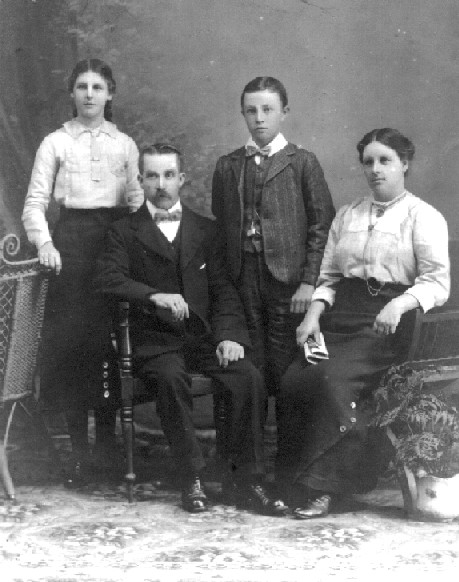 Antecedants
---
Last updated 07 June 2005