George and Sarah Hapgood of Lymington
George and Sarah Hapgood lived in Lymington during the mid nineteenth century. They married at Lymington, on 19 February 1827 at the ages of 22 (George) and 20 (Sarah) respectively. Over the following 20 years they had eleven children as shown in the family tree below.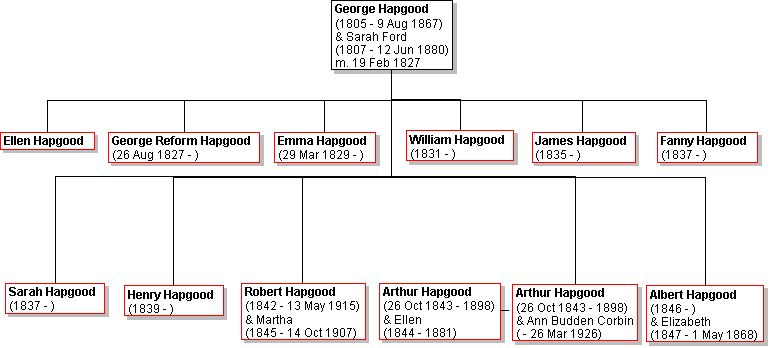 George died in 1867 and Sarah followed in 1880. They are both buried in the churchyard at Lymington Parish Church.
There is no substantive evidence to link George with the Hapgood family descended from James and Ann Hapgood. It is possible that George may have been James' nephew. This would make sense in terms of age; George was born in 1805, the same year as James' son Samuel. There is also an interesting coincidence that George and Sarah's third son, born in 1835 just after the death of James senior in 1834, was named James.
Links to information on their children
Occupation
Around 1850 George and Sarah established an ironmongers business at 112 High Street, Lymington. This remained in family hands until 1951 and traded as Hapgoods until the 1980s.
Antecedants
Sarah's father had the surname Ford though his given name is not known.
---
Last updated 08 May 2005